5 Surprising Facts About Queen Victoria
On June 28, 1837, 18-year-old Alexandrina Victoria was crowned Queen of the United Kingdom of Great Britain and Ireland. The coronation ceremony was held at Westminster Abbey in London. More than 400,000 visitors flocked to this place to witness the sacred moment. In fact, Queen Victoria had a great influence around the world when she came to power despite her young age. She ruled her kingdom until her death in 1901.
Victoria became the longest-reigning queen in British history and was also the owner of the splendid Buckingham Palace for a long time. There are interesting secrets about her life that not everyone knows.
The short queen who was respected by the whole world
Few people know that Queen Victoria is only about 5 feet tall, compared to Europeans, she is short. In 2009, after the queen's nightgown and pair of bloomers were sold at auction in 2009, people were amazed at the queen's small body. However, her height did not affect her authority. During her six decades of ruling the country, she made the whole of England respect her and her fame spread throughout Europe.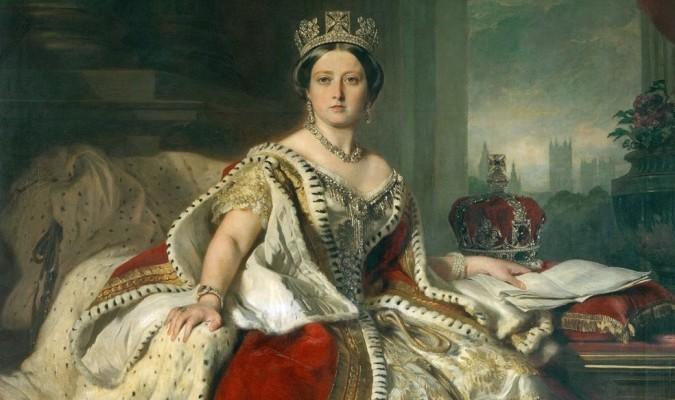 Portrait of Queen Victoria.
Ascended to the throne at the age of 18, then the UK was still under a constitutional monarchy (the regime in which the king did not really hold power in his hands). However, with strict ethical standards and skillful influence on domestic policies as well as ministerial appointments, the queen has built her name and affirmed her position in the UK. She became a symbol of the nation, a model of virtue for people to follow.
During the Queen's 63 years of rule, England was also known as the "Victorian Era" showing her far-reaching influence in the country. At this stage, technology, culture, politics, science-military developed strongly throughout the country and the British Empire began to influence the world.
CustomsPig Tracksuit Hoodies Pullover Sweatshirt Queen Victoria Historical 3D Apparel
The Queen proposed to her cousin and had a perfect marriage
Queen Victoria met her future husband Albert - the Prince of Saxe-Coburg and Gotha for the first time when she was 16 years old. Prince Albert was Queen Victoria's first cousin because his father was the older brother of the queen's mother. Upon the meeting, Queen Victoria fell in love at first sight and proposed to this prince according to royal rites. In 1840, the couple held a luxurious wedding in the presence and blessings of people and relatives.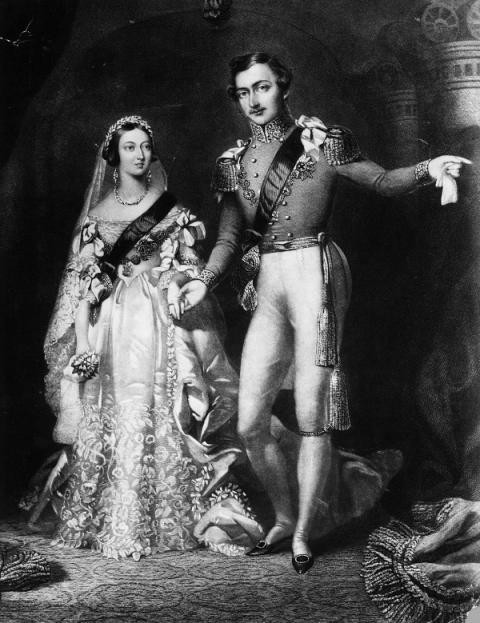 Painting of Queen Victoria and Prince Albert.
Although this is a marriage between members of the royal family, their home is full of happiness. The Queen has a total of 9 children with her husband. The queen even wrote a letter to her uncle Lepold I to thank him for arranging for her to meet a great guy like Prince Albert. In her diary, Victoria wrote: "Without him everything loses its interest".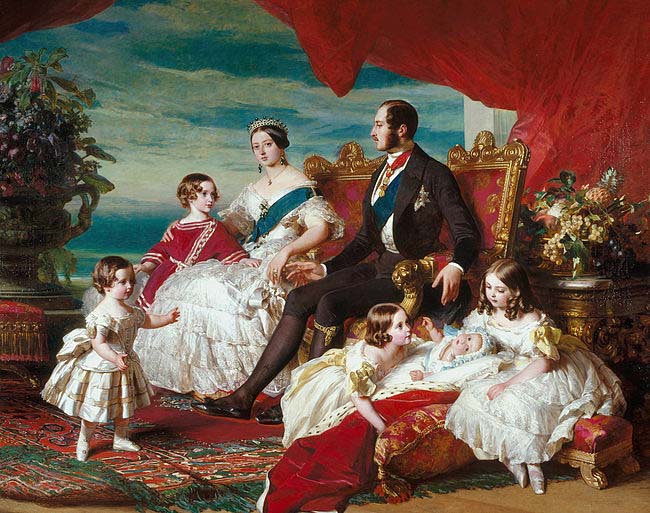 Queen Victoria's wedding dress has opened a wedding dress trend for the fashion world
The Queen's wedding dress was designed by artist William Dyce and sewn in England. With the desire to revive the embroidery craft of the country, she chose the famous Honiton lace to highlight her dress in combination with high-class white silk from Spitalfields, England. The pleated long dress has a low neckline, looks quite simple but not monotonous. Compared to the prevailing wedding dress fashion at that time, the queen's dress was criticized by many as being too simple.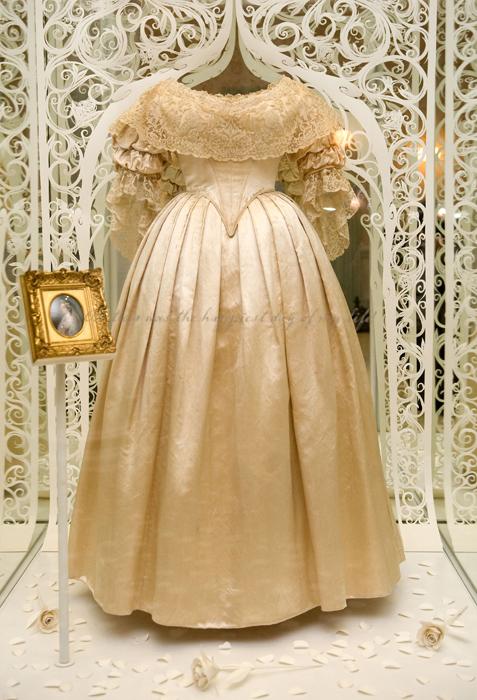 Today, Queen Victoria's wedding dress is still on display.
Furthermore, the queen chose a head garland instead of a tiara and wore a pair of white shoes that made the entire queen's wedding dress, although delicate, unfashionable at the time. Many people thought that she was too conservative even when choosing an outfit on the big day. However, she loved her dress very much. A few decades later, the queen's white wedding dress with soft silk and lace became a trend in the fashion world.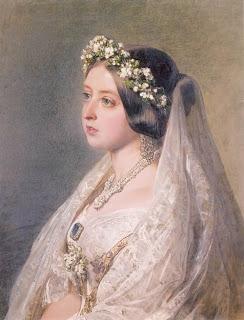 Portrait of Queen Victoria on her wedding day. She wears a simple garland instead of a tiara. 
The Queen was the first known carrier of "royal disease" - a European obsession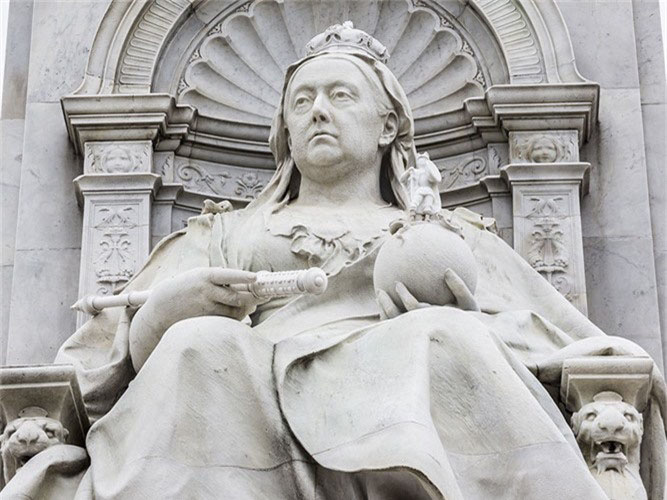 In the 17th and 18th centuries, many royals in Europe faced a strange disease passed down through generations with high mortality rates, whose scientific name is Hemophilia. Queen Victoria was the first person to contract this disease in the British royal family. Later, the disease also spread to other royals in Europe, becoming an obsession with European royalty. Her son Leopold died from excessive blood loss after he slipped and fell. Her grandson also died of the disease when he was 2 years old and 2 other grandsons also died at the age of 30.
According to researchers, the "royal disease" spread throughout Europe because the descendants of Queen Victoria were married to many members of aristocracy and royalty throughout Europe. It was also thanks to these marriages that European royalty became closer. Queen Victoria was also known as the "grandmother of Europe" because of that.
Currently, this disease no longer exists in members of the European royal families.
The Queen was raised by a single mother, and later became a single mother herself
Queen Victoria's father died when she was less than one year old. From then to the year of the throne, she grew up in the love of her mother and the guidance of her uncle. Twenty-one years after their wedding, her husband Prince Albert also passed away. She raised her children alone and never went any further.
However, the loss of her loving husband had a great influence on her psyche. For a long time Queen Victoria was distraught. After that, she recovered her spirits but no longer appeared in public as much as before. She alone raised 9 grown up children. Ruling a kingdom, raising children in place of her deceased husband is not an easy thing, moreover, the queen still had to continue to suffer a lot of pain of losing children and grandchildren due to "royal disease".
Surely Queen Victoria must be a woman with a "spirit of steel" to complete everything well to build such a glorious era for England!